Video Parking Guidance System
IPark's Video Parking Guidance System (VPGS) employs a camera sensor to accurately assess occupancy status and an LED light to indicate the availability of each parking space, boasting an impressive accuracy rate of 99%. The camera sensor's LED light can be easily customized to display any color within the RGB chart, allowing for differentiation of parking stalls such as vacant, occupied, handicap, and reserved.
The system is easily scalable for expansions and customizable to add different features and configurations. The VPGS integrates seamlessly with the parking access and revenue control system (PARCS) for a better visitor experience.
The system combines 3 features in 1: 
1. Parking guidance system: The VPGS guides drivers through the parking facility to find the nearest open parking space.

CCTV:

The video sensors acts as a closed-circuit security system for real-time monitoring of the parking garage or to play recorded videos for security purposes. The 24/7 monitoring creates a safer experience for parkers.

 

Vehicle locator:

The 'Find your car!' kiosks help drivers locate their vehicle inside the parking garage. Parkers can search for their car by inputting their partial or full license plate credentials, time of arrival or parking number.




We also offers a variety of cameras to monitor up to 6 spaces: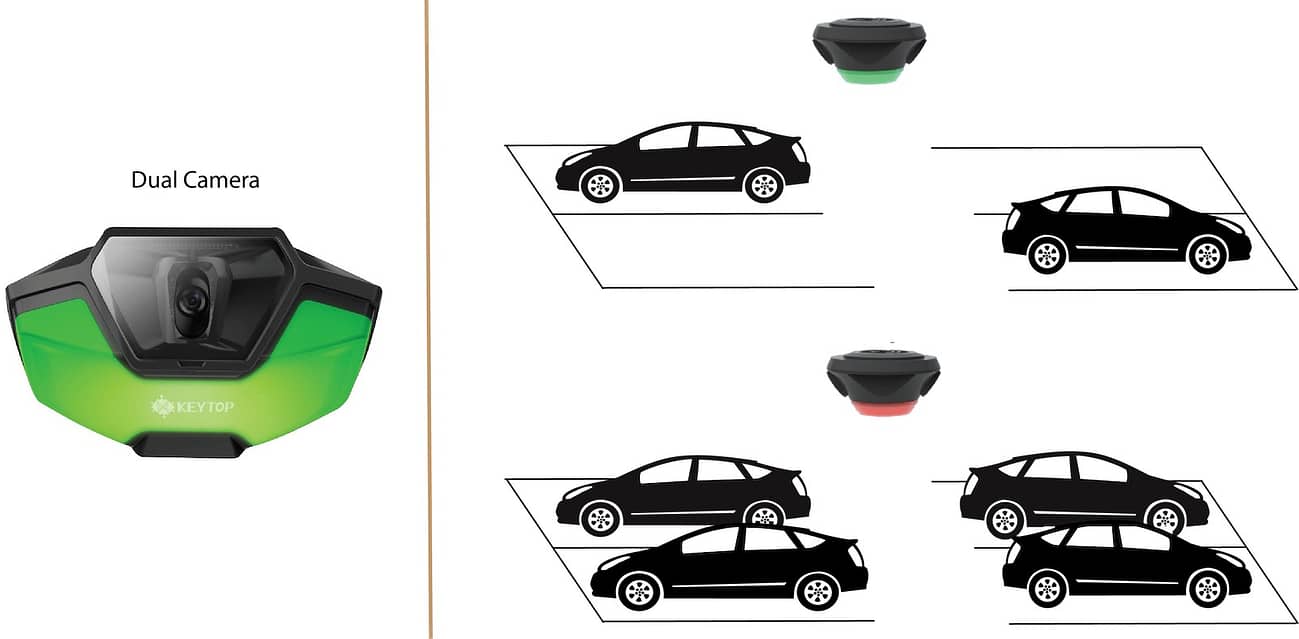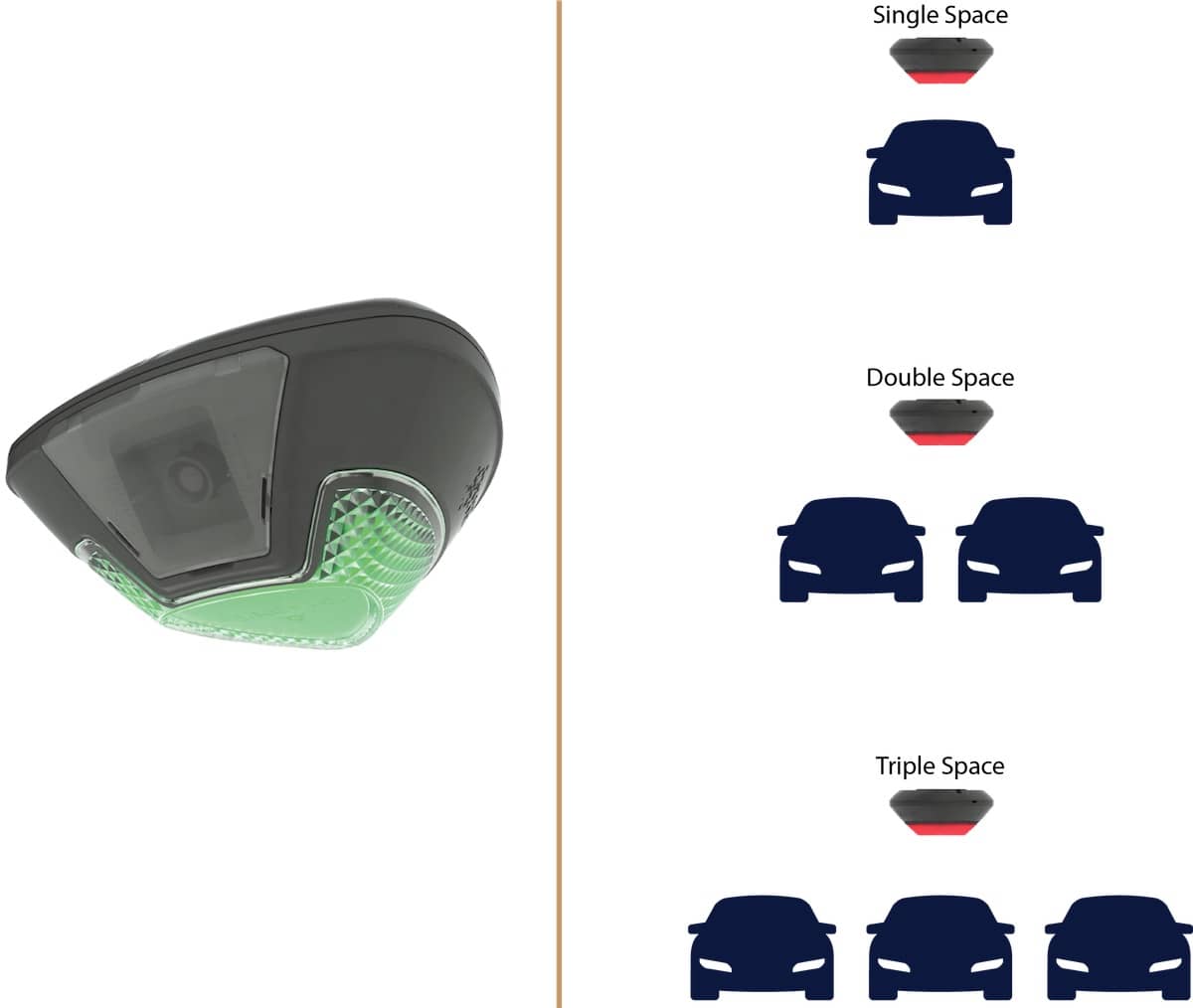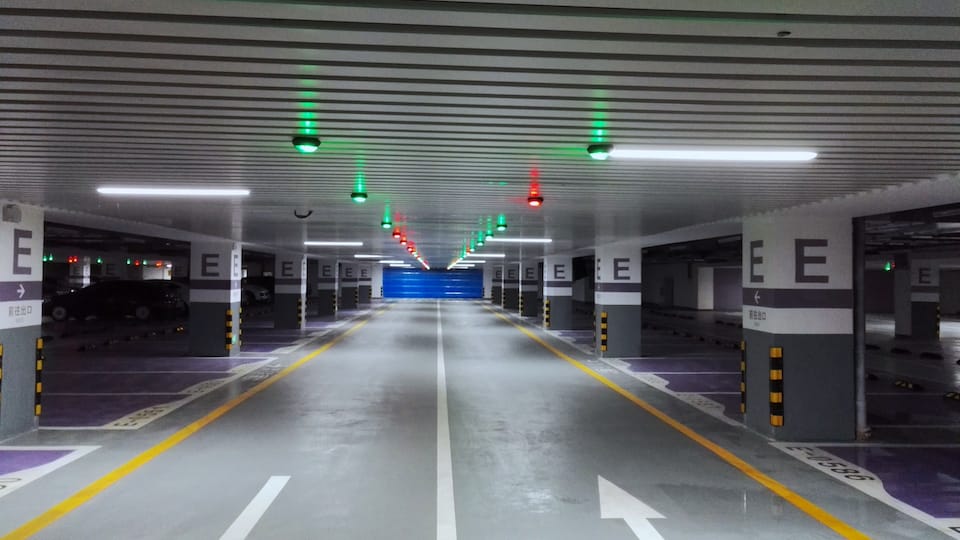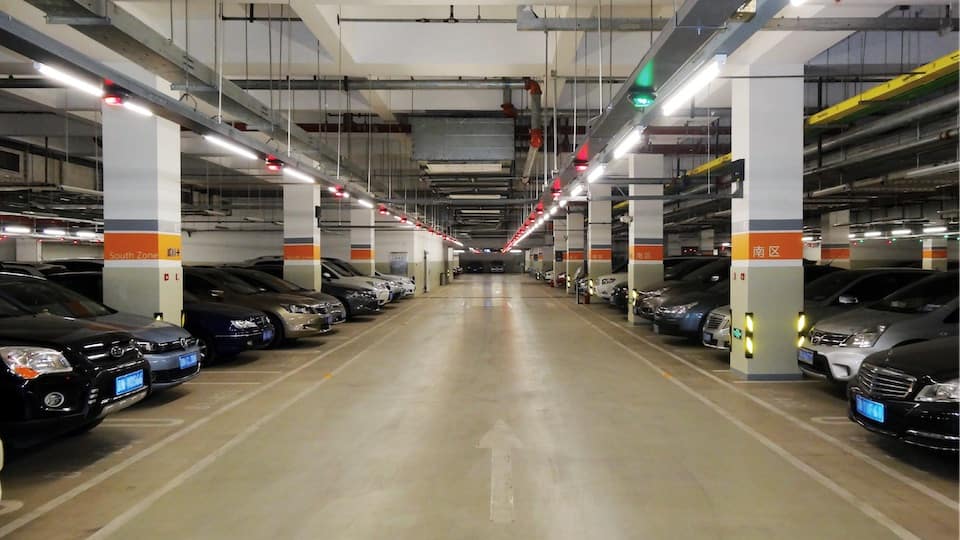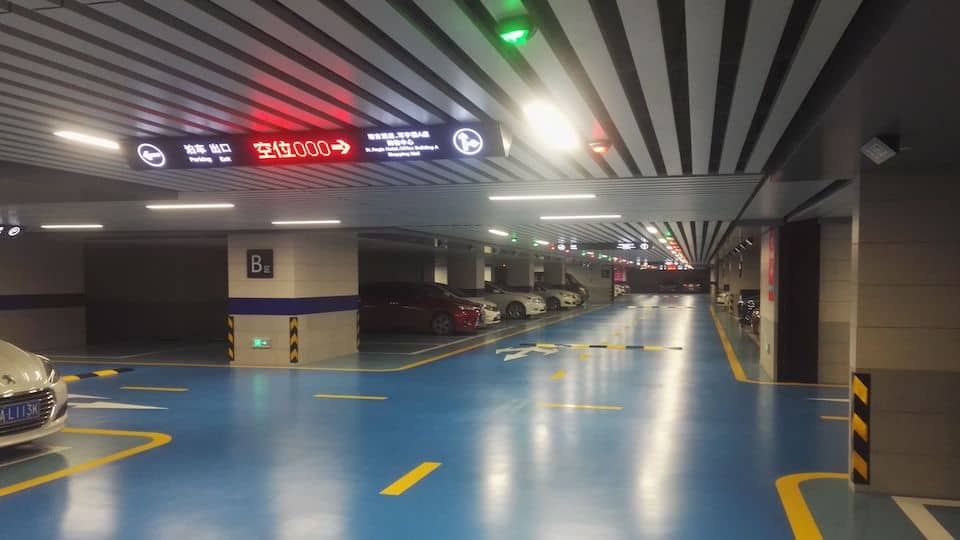 System Features
3 systems in 1
Full HD resolution
A camera can monitor 1, 2, 3 or up to 6 parking spaces
Low maintenance
Numerous LED light color options
High luminosity LED indicator
Applications
Universities
Airports
Shopping Centers
Sports and events arenas
Governmental facilities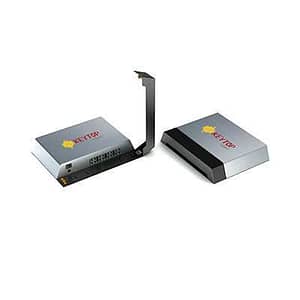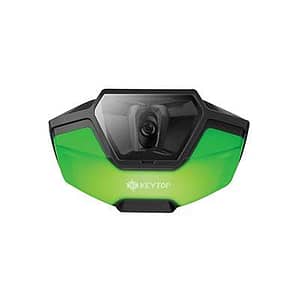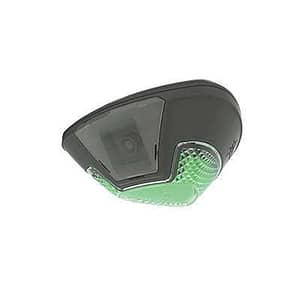 Each parking space is installed with iPark one or two-piece 'ultrasonic sensor' to monitor parking status. These sensors connect to the LED displays which are strategically placed inside the garage to guide drivers to the closest open parking space.
The system helps visitors to cut their search time in half while improving traffic flow for a better parking experience.
Ultrasonic Detector and LED Indicator


Two-piece PGS is composed by an ultrasonic detector and a high luminosity LED indicator. Each sensor monitors a parking space and controls the LED indicator to change color (red, green or blue) based upon status. 
Forward Mount Ultrasonic Sensor


This innovative sensor has a built-in LED indicator to display vacancy and occupancy. Compared with a traditional two-piece sensor and LED indicator light, sensor reduces installation material and labor costs. The LED light can be individually selected at any time to change to any color within the RGB chart. This is typically used to differentiate the type of parking stalls such as: vacant, occupied, handicap, reserved.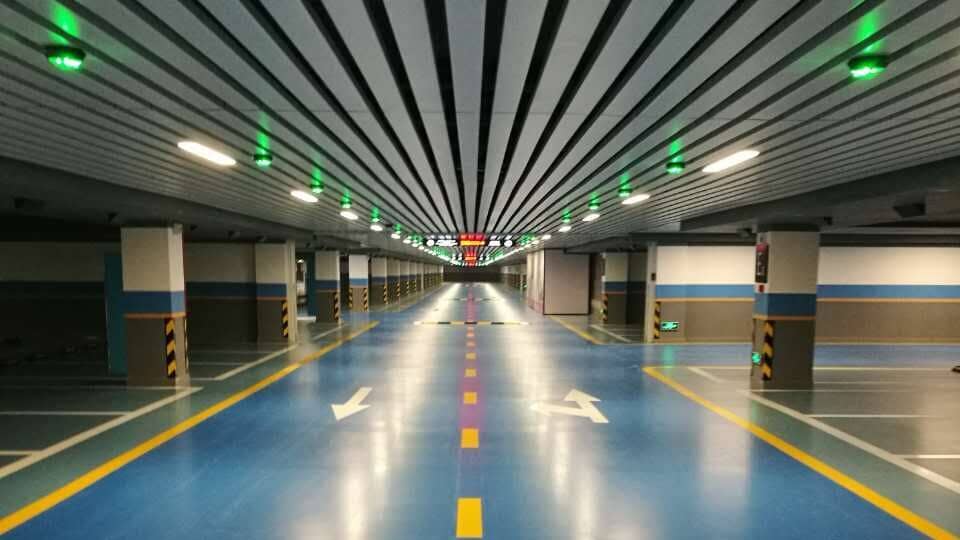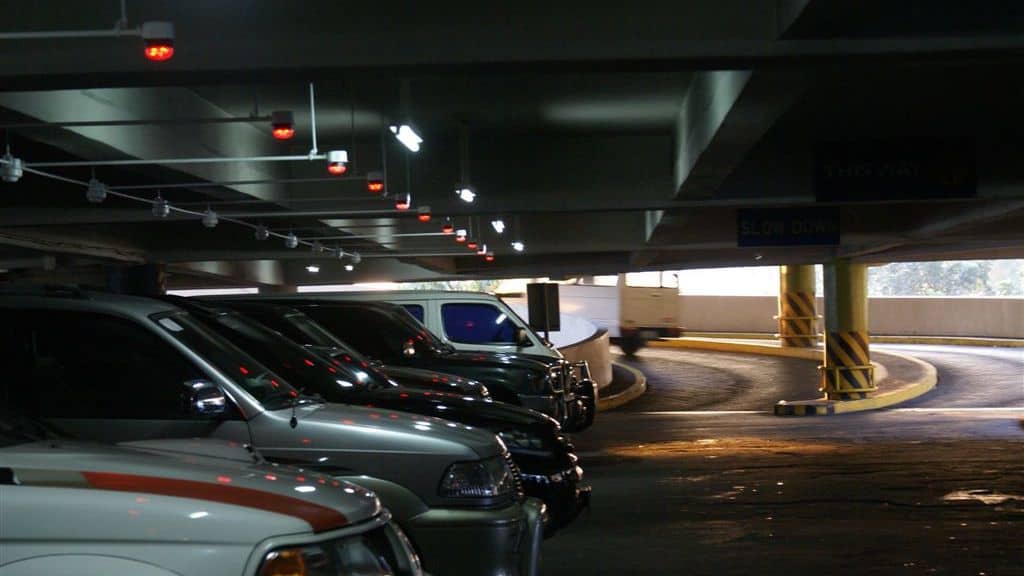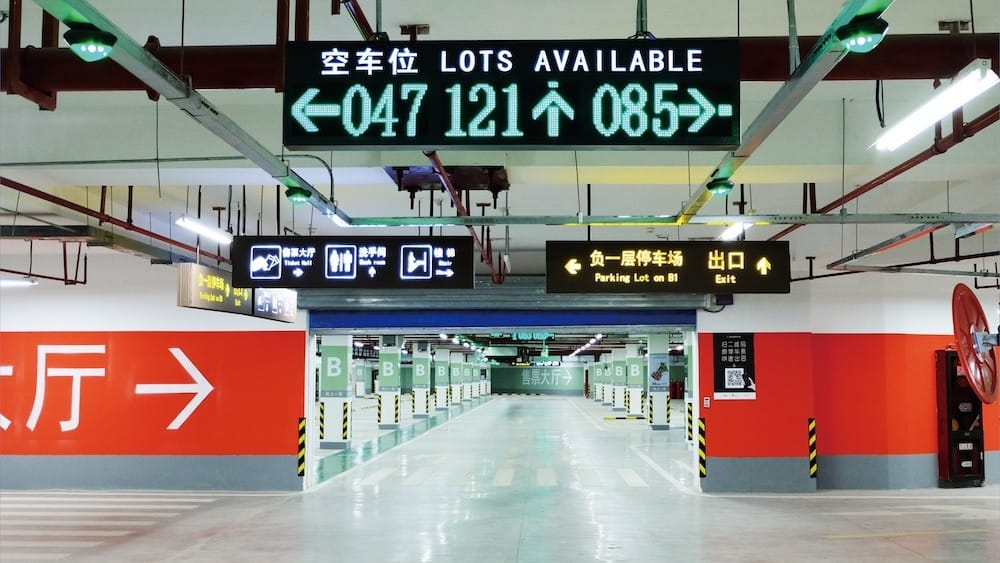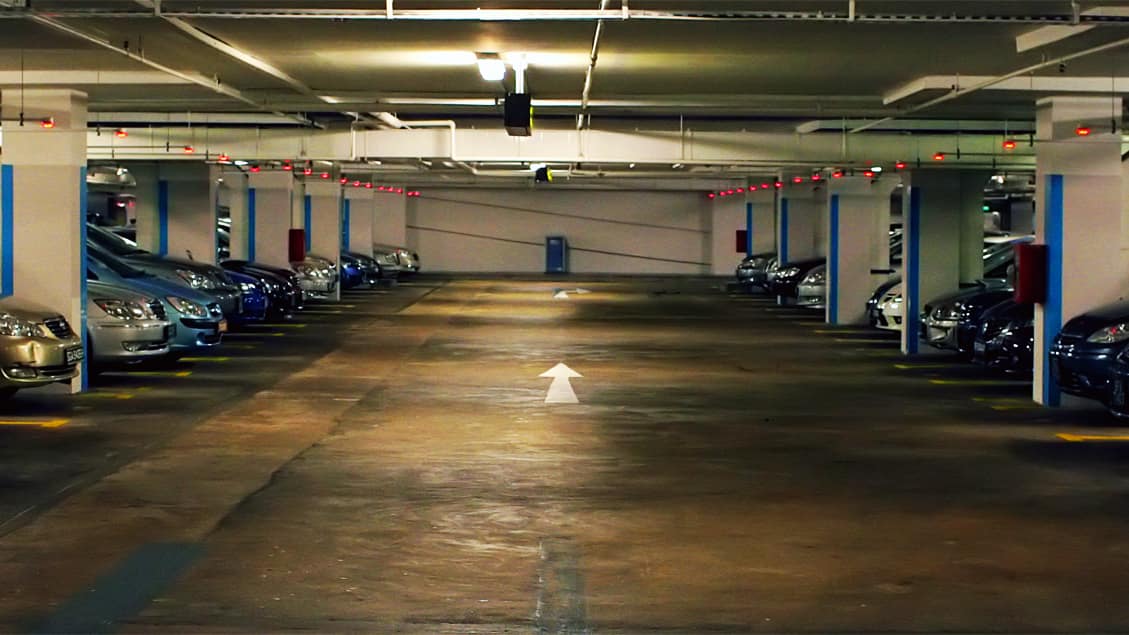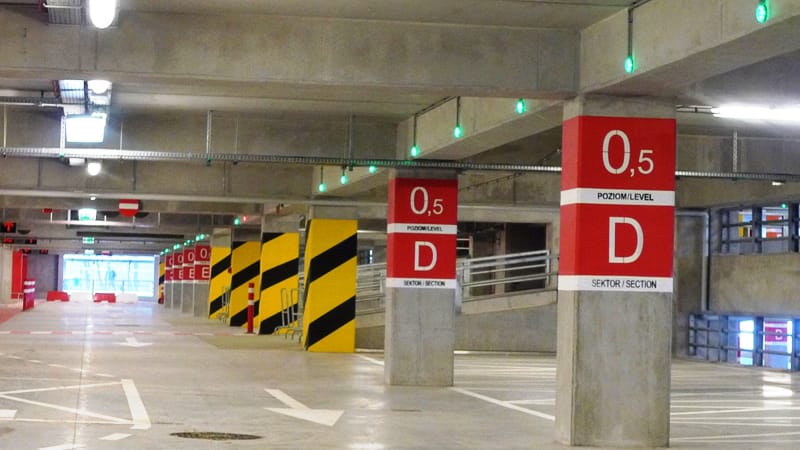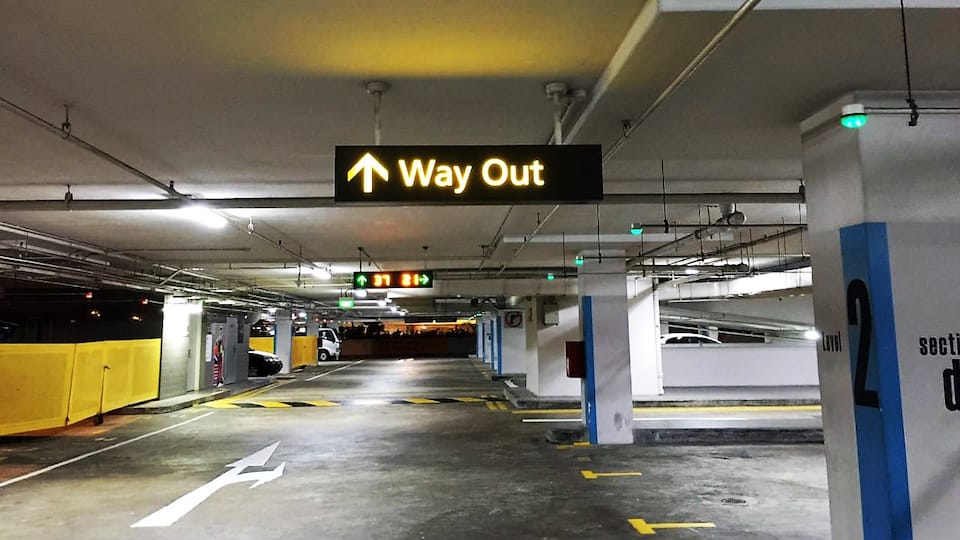 System Features
Real time management

High accuracy rate

Easy to install 

Low maintenance 

Numerous LED light color options 

High luminosity LED indicator
Applications
Universities
Airports
Shopping Centers
Sports and events arenas
Governmental facilities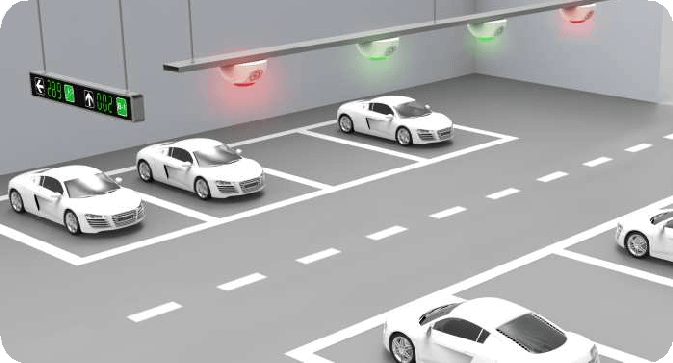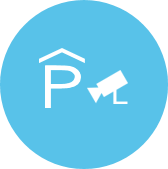 CAMERA
PARKING GUIDENCE SYSTEM
IPark Camera Parking Guidance System is an innovative and comprehensive solution for modern car parks, providing outstanding features such as "Parking Guidance," "Find Your Car," and "Surveillance."
Each camera detector in the IPark system offers real-time security by monitoring license plates and occupancy for up to 6 parking spaces. With advanced front-end recognition technology, the IPark camera detector can operate independently and accurately determine the status of each parking space. Drivers can easily access parking information through lighted indicators and information signage, and they can conveniently track the location of their parked vehicle using nearby "Find Your Car" query kiosks. The IPark system ensures a seamless parking experience for drivers while enhancing security and efficiency in the car park.
Check parking space's status via collecting and analyzing the photos data.
 Different color of the LED indicator will show different status of the parking space, Red-Occupied; Green-Available



Server collect and analyze all space's status information, then release it to entrance led display and VMS (Variable Message Sign). Driver can find the available parking space efficiently according to the guidance in VMS
HOW TO FIND YOUR CAR FAST IN A BIG CAR PARK?
The Query Kiosk is installed with "Find Your Car System". By inputting license plate number, parking entrance time or parking space number, car owners can find the car easily and it will show the best route to your car. Meanwhile cars without license plate can also be monitored.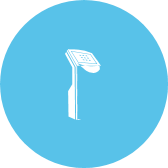 FIND YOUR CAR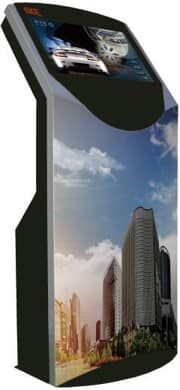 BENEFITS
OF INDOOR CAMERA PGS
With deep insight of park management industry, intelligently IPark employs LPR (License Plate Recognition) technology to its camera parking guidance system, integrated car park access control system, payment system, find your car system, cloud-based data platform. Car park can from now on realises entirely digital management. Driver can enjoy a really non-stop parking service, owners get no more headache from traffic, complaint, management labor can be laregely released.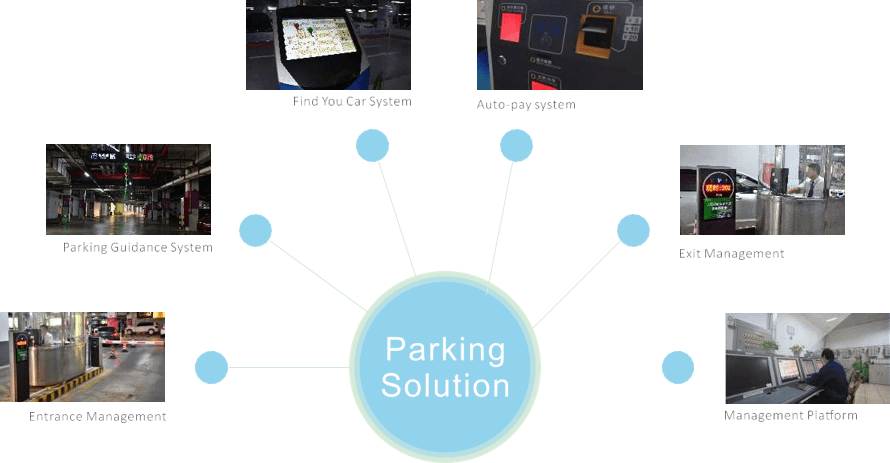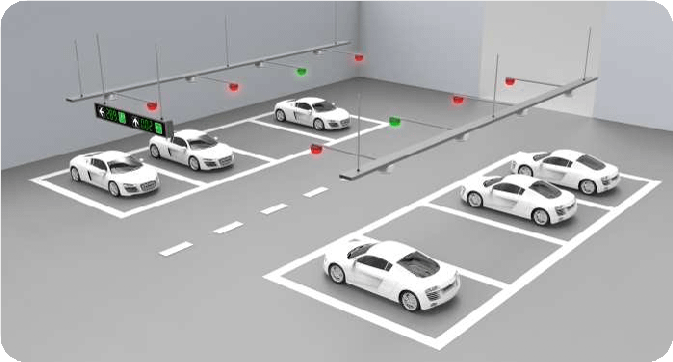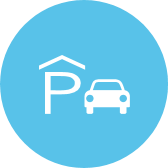 ULTRASONIC
PARKING GUIDENCE SYSTEM
Ultrasonic parking guidance system provides visual indication to driver while searching for a vacant parking spaces: ultrasonic sensor at each space monitors real-time occupancy and reports by changing color of individual lighted space indicator. A green light signifies that the space is vacant while a red light indicates that the space is filled or already occupied. At the meantime, availability information will be accordingly updated on decision point signs. No more guess work for the driver as to which parking level has available spaces for parking.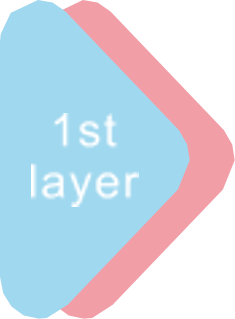 Data Acquisition
Ultrasonic sensor at each space forms system foundation. It detects parking status and reports to system controller on R485 Bus.
Data Process and Transmission
System controller processes data acquired from ultrasonic sensor, update real time information to associated signage, reports to upper layer on CAN Bus.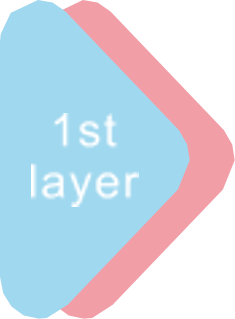 Data Analysis
Host Management software analyses data and generates statistics reports. Browser based architecture allows remote access to system.
| | |
| --- | --- |
| Power Supply  | DC18V-24V |
| Power Consumption | ≤0.5W |
| Detection Mode | Ultrasonic wave |
| Distance | 0.3m-4.5m |
| Scope of Detection | ±15 |
| Distance Setting | Automatic |
| Working Environment | Temperature: -10°C ∼ +80°C; Humidity: ≤ 90% |
| Baud Rate | 9600 bps |
| Address Coding | DIP Setting |
| Size  | 105 x 105 x 61(mm) |
| Weight | 0.3 kg |
BS FRAME SYSTEM STRUCTURE DIAGRAM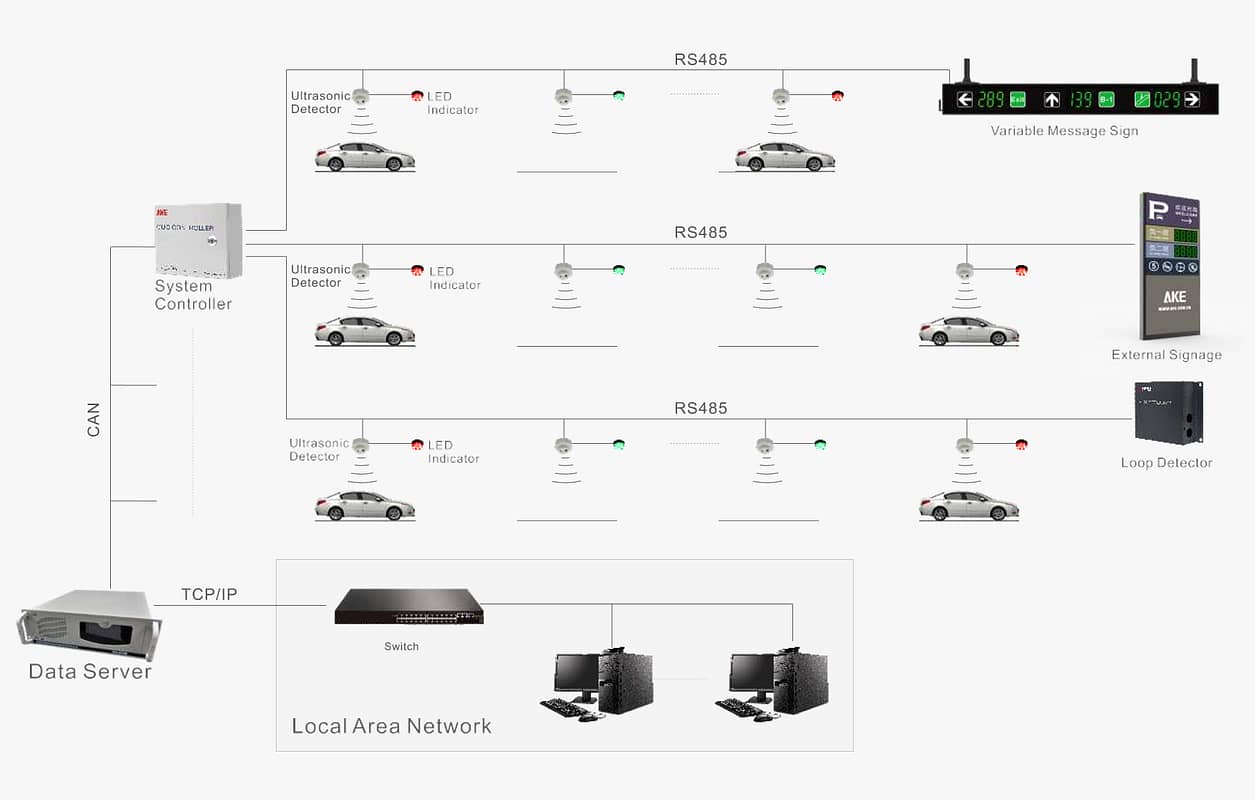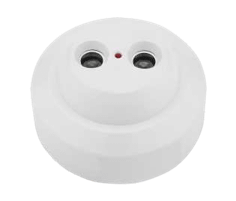 BENEFITS
OF INDOOR ULTRASONIC PGS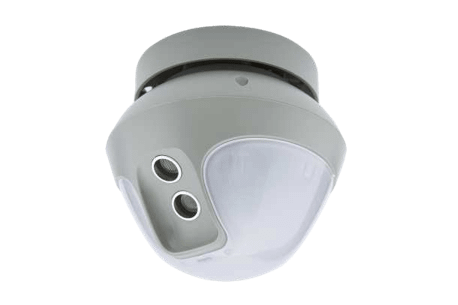 MORE ULTRASONIC SENSOR FOR YOUR CHOICE
INTEGRATED SENSOR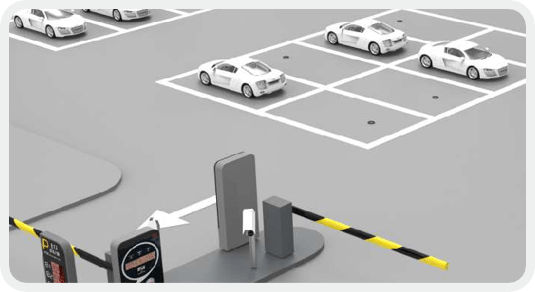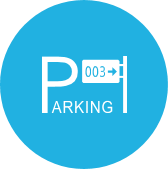 GEOMAGNETIC
PARKING QUIDANCE SYSTEM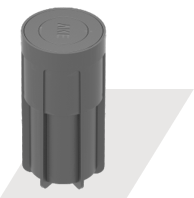 Geomagnetic Sensor PMD-15E
OUTDOOR WIRELESS GEOMAGNETIC SENSOR
Detects vehicles by analyzing the change of geomagnetic field; Information detected by detector (presence, flow, speed, etc.) will be transmitted wireless to the controllers installed at roadside.
| | |
| --- | --- |
| Radio Frequency  | RF470MHz∼RF500MHz |
| Communicate Distance | 50m |
| IP Rate | IP68 |
| Detection Rage | Within 50m radius |
| Working Temperature | 40°C ∼ 80°C |
| Load Affordable | 15 tons |
| Battery Lifetime | 5 years |
| Size | Ø60 x 120mm |
| Weight | 0.32kg(±) |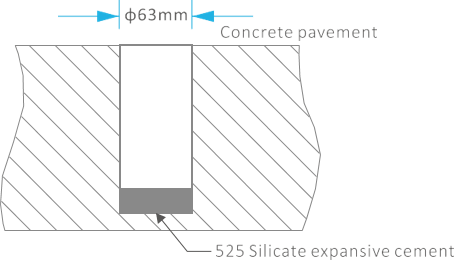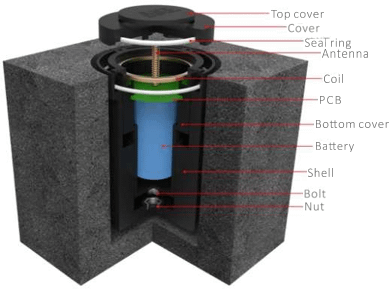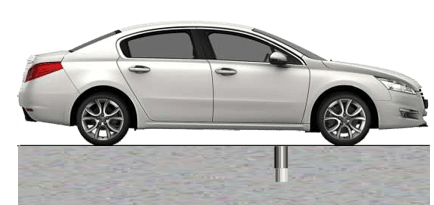 The Geomagnetic detector is based on the geomagnetism sensing, wireless data transmission and low power consumption technologies, judges whether a vehicle is parked in the parking space by detecting the change of the parking space geomagnetic variation, and wirelessly transmits the detection results to the geomagnetic manager.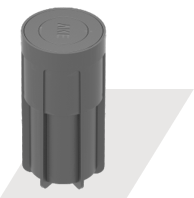 BENEFITS
OF GEOMAGNETIC PGS
ON STREET
PARKING TOLL COLLECTION
IPark geomagnetic solution can be deployed in street parking by interacting with parking meter, easier way to pay the parking fee.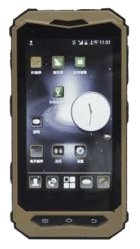 IPark Intelligent Parking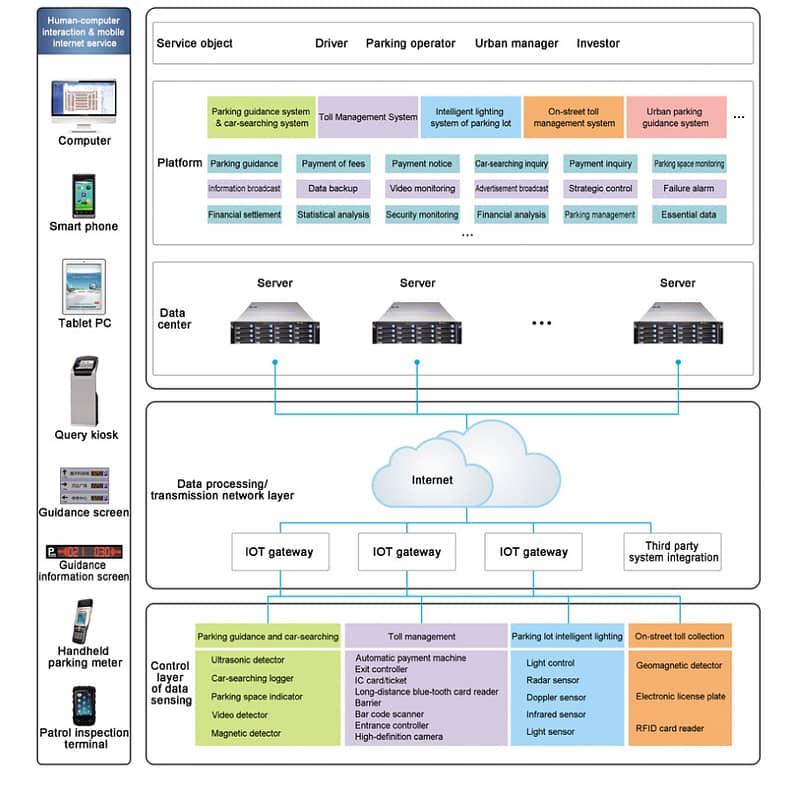 IPark, a cutting-edge smart parking company, integrates advanced video front-end identification technology, geomagnetic technology, and wireless networking technology into its solutions. IPark is at the forefront of intelligent parking management, elevating the application of intelligent technology to new levels. In the future, IPark will continue to offer comprehensive parking management services to its customers, utilizing parking data to deliver environmentally friendly, dependable, interactive, and highly efficient experiences for parking operators, drivers, city managers, investors, and other key stakeholders.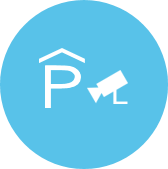 BENEFITS
OF Smart Parking System